When my blog gets quiet, you know I've been pounding away on my keyboard and scribbling my pencils into nubs. And what great news I have to share with you about my debut in Stormtalons today!
First, let me take a moment to catch you up on the other events in my writing world: I completed NaNoWriMo in November (insert thunderous applause).
According to the statistics released by NaNoWriMo, I am one of small percent of people who "won" NaNoWriMo. We reached the 50 000 word count goal in 30 days. As this was my first "proper" NaNo, I'm thrilled with my success.
The Author vs. Author competition I entered didn't work out as expected. My competitor dropped off the face of the planet after a mere six chapters. Since other opportunities arose, I chose not to start over in a new tournament. However, I liked my original concept so much, I'm going to redevelop the story in the future. I have Wrath of Atticus and a new trans-Atlantic ghost story novel to finish first! There's also more short and novel length works under review with different companies, so I can't talk about those yet.
Stormtalons: These are the Realms You're Looking For
Canadian Publisher, The Ed Greenwood Group, printed my short story in Onder Magazine, issue #4. The Tower of Egizii marks my debut with a publishing company other than my own. Colour me super thrilled – which in my case, is always some shade of purple, plus or minus glitter.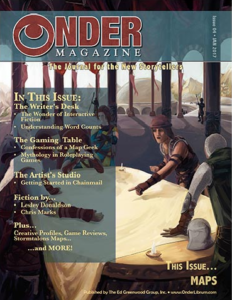 My tale appears in the "Stormtalons" setting, full of swords and sorcery, magic and mayhem. The Stormtalons realm was introduced to the world last August with Ed Greenwood's novel, Words of Unbinding.
In The Tower of Egizii, young Whip follows his relic-seeking master to an ancient tower ruin. He encounters an acolyte of Sroon, the goddess of truth, who challenges Whip's first shot at freedom with a distinctly different kind of servitude.
Whip is the kind of a character an author loves creating. He has a simple past and a complex future. His actions give his story a momentum that makes him fun to write and read! As a Sessorium Creative in the Stormtalons setting, I enjoyed creating herblore for my story. In an age akin to the Middle Ages, oral traditions taught people which herbs healed or harmed. I crafted a little folk-rhyme about heartbane, and I'm tickled that it might be used by another Sessorium Creative. Read Whip's story and find out about rare nightshroom, and why Whip risks holding onto it.
This issue of Onder Magazine focuses on maps. Maps are essential to storytelling and game play. Who doesn't love a geeky bit of cartography now and then? Check out writing insights from Gabrielle Harbowy, Martin Treanor, and Geoff Gander. Gamers receive stellar advice from Kenny Mahan, Stephen Best, and Christian Toft Madison. Nick Fife and AJ Hare provide board and video game reviews. August Grappin links together an article about crafting chainmail. Lyric Goins, Valerie Erzählerin (cover artist), and R.J. Keith provide visual delights in graphic storytelling. The talented Chris Marks, David A Wendt, and Cat Jarrett weave tales that you'll love.
Why are you still reading my blog post?